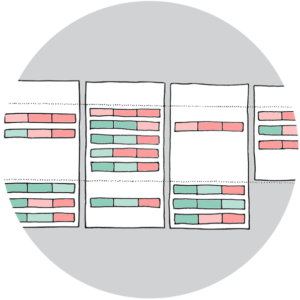 Insight
The journey towards competence starts
with knowledge about strengths and weaknesses
There are a great many competences in play when products are being developed and projects are executed ( See more here )
Naturally, it's inconcievable for one person to have a complete overview of all the strengths and weaknesses in your entire organization. This is where Whitebox' have its main competence. When process improvement experts have completed 750+ assessments based on the industry standards, it's a guarantee for a super efficient evaluation of your organisation including qualified input for your journey towards a better organization.
Currious? We have made an online questionare based on the frustrations our clients have expressed to varying degree, which can provide a quick insight on where your organization are on the journey to excellence. Click here to try Whitebox Excellence Score teaser.
We have the following services to help provide you with the insight you need.
Benchmark
Look here for the quick rute to a strucktured overview
Here you will find services which provides answers to:
Where you are at compared to the competition/the industy?
Where you are strongest and where you are weekest? Both in your own eyes and in Whiteboxes eyes.
What makes most sense to improve?
Quality Leadership
All leaders will need new and different priorities in the everyday life, when their organisation gets new ambitions for becoming more skilled.
Energy needs to moved from execution to intern improvement
In Whitebox we know that this can be difficult. Very difficult. We also know why. We have therefore designed this Quality Leadership workshop, where we challenge a leder group to think in the lanes that will naturally enhance the prioritizations which create a more competent organization.
Lessons Learned
You can and should learn from own experiences. Both the good and the bad.
In a classic internal "lesson learned" session, the experiences are evaluated by the same eyes which created the experiences.
In a Whitebox Lesson Learned , the evaluation is facilitated so that it is put in perspective with the industries best practices. It provides depth and objectivity to the evaluation and thus a more valuable insight in the cempetence development in the organization.